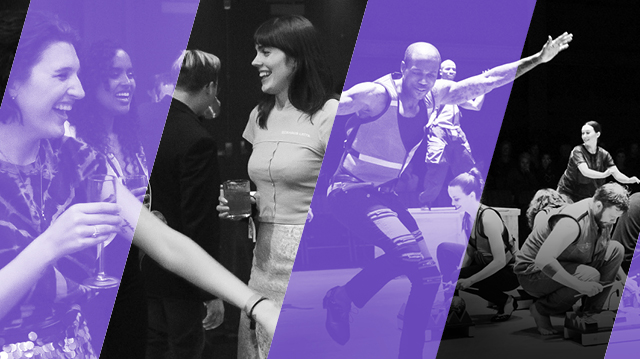 BAM supporters in their 20s, 30s and early 40s shaping the future of the arts in Brooklyn.
The BAM Young Producers is a dynamic community of patrons who share a passion for diverse artistic programming. They play an integral role in supporting the bold works on BAM's stages and screens every year, and are the foundation for the next generation of BAM supporters. Join them!

For more information or to pay in installments, contact Adithya Pratama at 718.724.8239 or apratama@bam.org.


Upcoming Events
Young Producers come together throughout the year to enjoy an array of invitation-only events planned especially for them.


Past Events
See past events that Young Producers have enjoyed.


Young Producer Levels
BAM supporters in their 20s, 30s, and early 40s giving $500+ annually.
Young Members
$500
Non-Deductible Amount—$54
This is you, if you enjoy events and networking opportunities while getting advance access and discounts to diverse artistic programming on stage and screen.

• Invitations throughout the year to special Young Producers events
• Plus the following Level 4 BAM Membership benefits:
CINEMA BENEFITS
Free admission to movies for one (Applies to regular-price movies.)
Waived ticket handling fees
Advance access to tickets for select special screenings
$5 off tickets to special screenings for two
LIVE PERFORMANCE BENEFITS
Advance access to live performance tickets
50% off same-day tickets (Limit two tickets. Subject to availability.)
20% off during member discount days
50% off performance-related talks
Waived ticket handling fees
Invitations to working dress rehearsals, entry for four
Free ticket exchanges when available (Save $15 per exchange)
PARTIES & EXTRA PERKS
Access to pre-show Member Mingles
10% off at BAMcafé and BAM Dining Partners
Invitation to annual BAM Member Bash
Young Patrons Circle
$1500
Non-Deductible Amount—$210
This is you, if you love attending exclusive cast parties and other Patron-only events, enjoy priority access with a personal touch, and want to meet like-minded supporters who champion adventurous art.

• Invitations throughout the year to special Young Producers events
• Discounted BAM Gala tickets
• Plus the following BAM Patrons Producers Council benefits:
CINEMA BENEFITS
Free admission to movies for two (Applies to regular-price movies.)
Waived ticket handling fees
Free small popcorn at BAM Rose Cinemas concessions
Advance access to tickets for select special screenings
$5 off tickets to special screenings for two
LIVE PERFORMANCE BENEFITS
Concierge service through our dedicated BAM Patron Services staff
Priority access to tickets and subscriptions ahead of the general public
Exclusive access to premium orchestra seats, reserved for BAM Patrons
Free ticket exchanges and refunds (up to 48 hours in advance)
Waived ticket handling fees
20% off during member discount days
50% off performance-related talks
50% off same-day tickets (Limit two tickets. Subject to availability. Cannot be combined with other offers.)
Invitations to working dress rehearsals, entry for four
PARTIES & EXTRA PERKS
Invitation to the annual Producers Council Celebration, paired with a show in the Next Wave Festival
Invitations to special events, including Opening Night Parties with cast, crew, and fellow BAM Patrons
Exclusive use of Patron Lounge with no-line, no-wait ticket pickup and complimentary coat check
10% off at BAMcafé and BAM Dining Partners